Ductless Air Conditioner's and Mini-split systems can be very beneficial to your home or office. They provide lots of power with a small footprint. You can have multiple heads for each condenser too! Mini-splits have been around for a long time but only recently gained popularity in the United States. There are many different manufacturers for mini-splits and we can get you any of them.
What Are Ductless Air Conditioning Systems?
Since ductless air conditioner's and mini-splits are fairly new here in the United States, we wanted to show you how they work. As their name implies, they greatly differ from traditional HVAC systems. Traditional systems utilize a series of ducts to carry airflow through your home or office. A ductless system focuses on a single room, depending on how many heads are attached to the condenser. In the picture below, you can see how the mini-split works.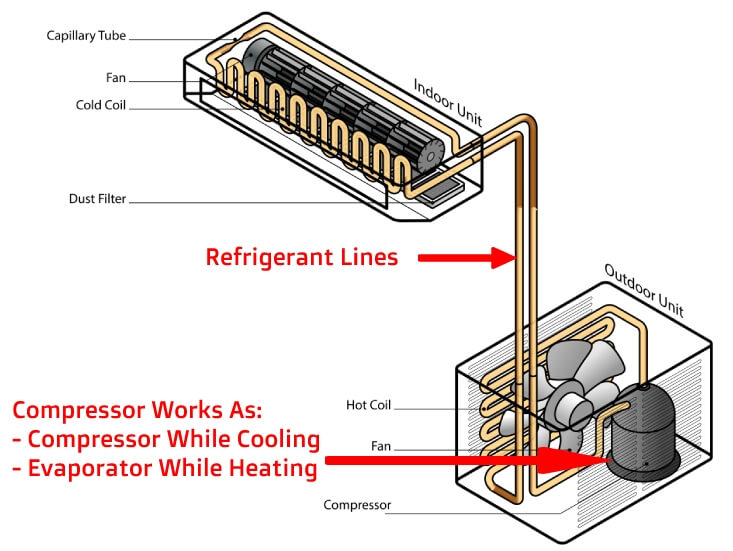 Benefits of Ductless Air Conditioner Systems
Are you thinking about switching to a mini-split system or adding one to your home? Listed below are some reasons that may help you decide for yourself:
Increased efficiency – Traditional HVAC systems like heat pumps or centralized systems are susceptible to energy loss as cool air travels through the ductwork. Heat can penetrate the edges of the ductwork, which reduces the overall efficiency of your home. With a ductless system, you can avoid all of that energy loss.
Zone control – A great benefit of a ductless system is that they naturally offer zone control. Meaning you can control the temperature in different areas of your home independently of others. Since you can control certain parts of your home, this could result in reduced energy usage.
Ductless Air Conditioner Repairs
Ductless systems can break down just like any other HVAC system. If your ductless unit is running into any issues, we can have a trained and certified technician out to your home or business ASAP. Just like central HVAC repairs, we back our name and all of our work with our 100% satisfaction guarantee.
Ductless Air Conditioner Installation
More often than not, we get repair calls for mini-splits due to poor installation. Replacement options, in a lot of cases, is the more feasible option with mini-split systems. From start to finish, we help you with the right equipment that fits your budget.
You can call, text, email, or message us if you have any additional questions. We can schedule an appointment ASAP!