Geothermal systems are one of the most efficient heating and cooling systems currently on the market. Any make or model of geothermal systems can be installed by our technicians since they are all EPA certified. If you would like to know more information, you can call us or continue to read this page below.
What Are Geothermal Systems and How Do They Work?
Geothermal systems are very unique heating and Air Conditioning systems that use the power stored in the earth for endless energy. 10ft below the surface, the temperature is about 55°F and stays that temperature all year long. Geothermal systems use this temperature consistency for heating and cooling your home.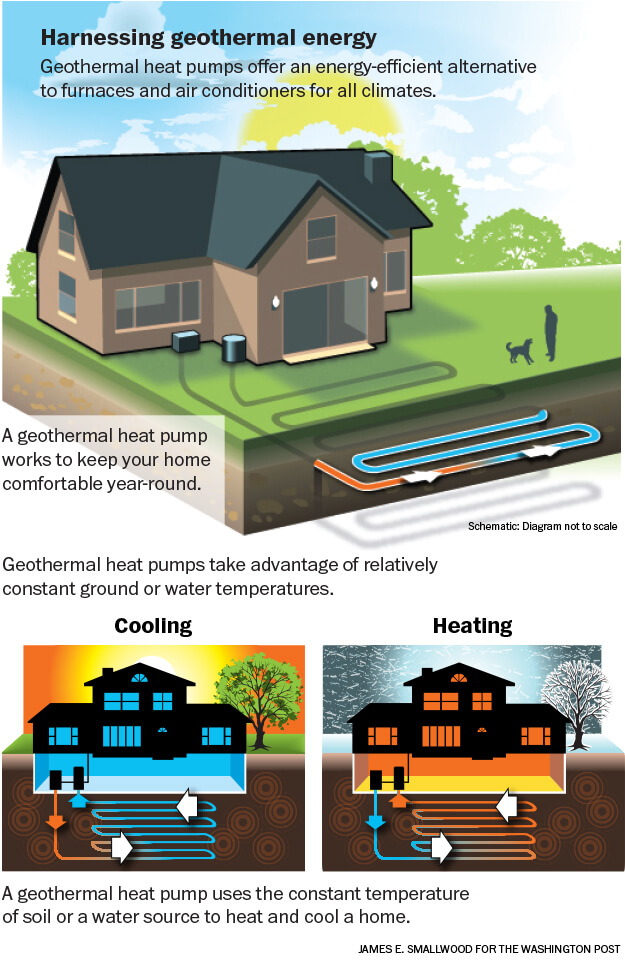 As you can see, a long series of pipes, called a ground loop, are buried deep in the ground and filled with refrigerant. Both ends of the pipes are connected to a heat pump located in your home. In heat mode, the equipment circulates the refrigerant through the ground loop where it absorbs heat from the soil and brings it back up to the heat pump to distribute through your home. In cool mode, the same thing happens in heat mode except it's not cool circulated through the ground loop.
Geothermal Installation
As you may have thought, not every home can accommodate for a geothermal system. The ground loop is quite large and would require a lot of space to install. If your home has the space needed, we can get supply any brand and type of system that can work for your home. If you're interested in learning if your home is a good candidate for a geothermal system, give us a call. We can schedule a visit with one of our Advisors to come to your property and determine if you have the space necessary.
Geothermal Repair
Like any other HVAC equipment in your home, geothermal systems can break down on you as well. You can run into similar issues as a normal gas or electric system too. Not cooling/heating, weird noises, not powering on at all, etc etc. No matter the issue, we can offer repairs on geothermal systems just as we can install and service them.
You can call, text, email, or message us if you have any additional questions. We can schedule an appointment ASAP!